Wyvern is a Creature/Monster in The Witcher 3: Wild Hunt.

"Most dangerous of all are the royal wyverns. Or, as they're called in some circles, the royal pains in the arse.
— Albino Tottelkampf, lecturer in natural sciences at Aretuza

Wyverns are often mistaken for dragons, and, though they are much smaller than their more famous kin and do not breathe fire, they are likewise extremely dangerous monsters. Especially feared are the so-called royal wyverns who, like their namesake monarchs, are exceptionally ornery and extremely deadly."
Wyvern Information
Found in: Around and south of Crookback Bog
Drops: Wyvern Egg, Wyvern Plate, Dragon Scales, Wyvern Mutagen, Monster blood, Monster bone, Monster brain, Monster claw, Monster eye, Wyvern hide, Wyvern trophy
Variants: There are two visual types of Wyvern. It is unclear if these have any noticeable behavioral or stats-based differences


The basic type (as seen on the right with a long tail, scales, and short horns)

The 'Royal' type (short tail, large horns on the head, and hair/fur on it's underside- though it is distinct from the Royal Wyvern associated with the Contract Phantom of the Trade Route)

Associated Quests:
Strategy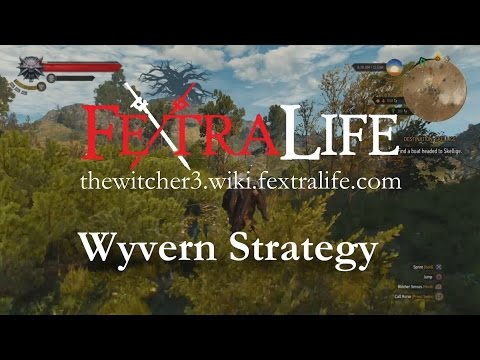 Wyverns & Forktails are relatively easy enemies to defeat, even at very high levels, once you've learned their attack patterns. The Quen Sign is not a must here, but can make this fight go much more smoothly. Frenzy, from the Alchemy Skill Line, is also excellent as it allows you dodge the Wyvern's counterattacks with ease.

The basic strategy is simple dodge forward and to the left when it attacks. This will put you behind or to the side of the Wyvern / Forktail, allowing for 3 or 4 attacks before it dodges away and spins to face you. When it dodges back you will miss your attack and this is your cue to dodge as it is about to counterattack. If you fail to dodge your Quen Sign will negate the damage and there will be no need to heal.

Periodically the Wyvern / Forktail will take flight, circle a time or two and then dive at you. There is no real danger here as you can easily see it coming and a dodge will put you out of harms way. Wyverns & Forktails have only one difficult attack to read and it is a tail swipe that should only happen once or twice through out the whole fight. If you have your Quen Sign then there is no need to worry, if you don't and it should hit you, it will deal most of your health so be prepared to heal.

Simply rinse and repeat this strategy for an easy victory.

Wyverns are quite vulnerable to both Igni and Aard.
Trivia & Lore
Notes on Lore and players notes go here.
Join the page discussion
Tired of anon posting? Register!