Fiend is a Creature/Monster in The Witcher 3: Wild Hunt.


"I regret to inform Your Grace that Your Grace's son fell while hunting a fiend. He died on the spot, along with his squire, his guide, the beaters, his peasant entourage and his hounds. -Kavin Jell, manager of the Villepin Estate near Vizima

Fiends are walking mountains of muscle capped with horned, tooth-filled heads. Like their rarer cousins, bumbakvetches, they live in thick forests, swamps and bogs. When possible they avoid humans, but when not possible, they kill them, and without much difficulty."
Fiend Information
Strategy
Fiends are among the toughest of the tough enemies in the Witcher 3: Wild Hunt. Their large amounts of health, which regenerates over time, combined with attacks that are extremely difficult to dodge.

One of the things you can do to make this fight go a bit easier is engage the Fiend on horseback. It is relatively easy to deal high amounts of damage in a very short period of time with this method, you could even complete the fight this way if you so wished.

Once dismounted or on foot you'll want to be aware of two attacks that are extremely dangerous. The first is his Hypnotize attack. If the Fiend remains motionless and the ground starts shaking, this is your cue he is trying to Hypnotize you. You can interrupt this attack if you are fast and hit or stun him when you see it happening, but if you fail the entire screen will go dark and you won't be able to lock on to him for 20 seconds. During this time I suggest dodging as much as possible until the Hypnotize effect expires. The second attack is his charge attack, which will all but one-shot you if it connects. Be sure to roll away from it.

The general strategy with this fight is use Quen Sign to protect yourself from the Fiend's powerful attacks, use Axii to stun it when you want to deal some damage, protect yourself from a charge or hypnotize attack and bait him into attacking and hit him once and dodge. It is extremely difficult at lower levels and higher difficulties. If you have Relict Oil I suggest using it, along with a weapon with Bleed Chance.
Igni is very powerful against Fiends.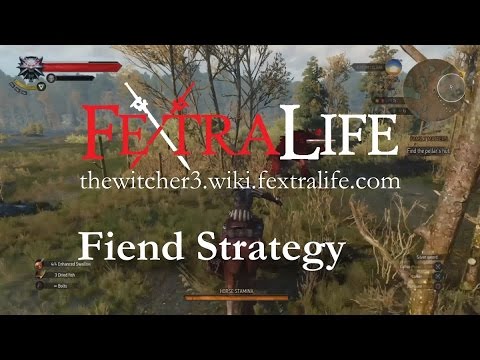 Trivia & Lore
This was one of the first and main enemies showcased in The Witcher 3 promotional material
Join the page discussion
Tired of anon posting? Register!