Earth Elemental is an Creature/Monster in The Witcher 3: Wild Hunt.

"How to survive an encounter with an earth elemental? Simple. Run. Fast as you can.
— Nino Murk, bounty hunter

Earth elementals are made of mud, clay, sand and rock dust clumped together with water and brought alive with magic. While seemingly slow and ponderous, these creatures are nevertheless dangerous and should be avoided at all costs.

Earth elementals can withstand a tremendous amount of punishment. Due to their enormous mass they are virtually impossible to knock off balance. They do not bleed nor do they feel any pain from poison or fire.

They kill men with astonishing ease - whether by smashing them with their fists or hurting enormous stores at them. Their only weakness is their vulnerability to dimetrium dust - thus, before combat, one should prepare a full arsenal of bombs containing said ingredient."
Earth Elemental Information
Found in: Velen
Associated Quests:
Strategy

Earth Elementals have very similar attack patterns to Gargoyles and Golems.

Their high armor and exceptionally large health pools can make these fights lengthy and extremely difficult for impatient players.

You'll see me using Fast Attacks in the video, but Strong Attacks are actually more effective. The reason I'm not using them is because I have 0 points in this skill line
and 10 points in Fast Attack.

Rolling is preferred to dodging in this fight as most of his swipes are high and his jump attacks have long range. Rolling takes you out the reach of this attack, whereas dodging won't.

Aside from Elementa Oil, Earth Elementals don't really have any weaknesses. I suggest using the Quen Sign to mitigate some of the high damage hits this enemy can do,
and just taking the fight slow and steady. You will eventually down him if you are patient.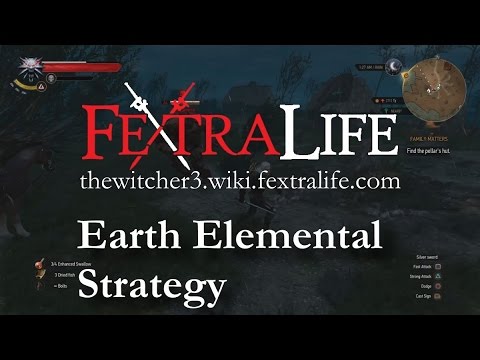 Trivia & Lore
Notes on Lore and players notes go here.
Join the page discussion
Tired of anon posting? Register!