Precious Cargo
is a Quest in The Witcher 3: Wild Hunt. It is obtained during the main quest Lilac and Gooseberries or The Beast of White Orchard. The nearest Signpost is: Nilfgaardian Garrison.
"Journal entry goes here"
Precious Cargo Objectives
Find the little box the merchant mentioned.
Find where the cart left the road.
Find the cart.
Return the box to the merchant.
Optional
:
Chase down the merchant.
Knock the merchant off his horse.
Defeat the bandits.
(Nearest Signpost: River Crossing)
Rewards
25 xp (Give John the box) or 10xp (chasing)
Give him the box - 20
Negotiate for the box - 30
Threaten him - 50 , 5x Celandine and 4x White Myrtle
Hand him over to the Nilfgaardian Garrison - 30
Walkthrough
Locations
: Swamp, Insurgent Camp
Characters
: Private First Class John Geermer (Merchant)
Enemies
: Drowners, Insurgents (Bandits)
John Geermer
is an NPC that can be found to the side of the road near a swamp, south of the Garrison. He signals for Geralt to approach and asks that you help him find his lost cargo. Use your Witcher Senses to find tracks and head towards the swamp until you reach a destroyed cart. Here, use them again to note arrows that have taken down man and horse, unlike the story you were told.
Loot the vecinity of the cart and defeat any
Drowners
that approach, and find the
Locked Stronbox
quest item that the "merchant" was missing. You will not be prompted to return and have a conversation with John, telling him:
Give him the Lockbox and finish the quest
Tell him you are not fooled by the story, at which point he will attempt to flee.
Pursue him on horseback without letting too much distance between you or he will flee. He will ride all the way to a bandit camp where a group of three bandits will ambush you. Once the bandits have been defeated, John will reveal he is a private in the army who attacked the real merchant because he needed medicine. You can now finish the quest and gain rewards depending on your choice:
Give him the box - 20
Negotiate for the box - 30
Threaten him - 50 , 5x Celandine and 4x White Myrtle
Hand him over to the Nilfgaardian Garrison - 30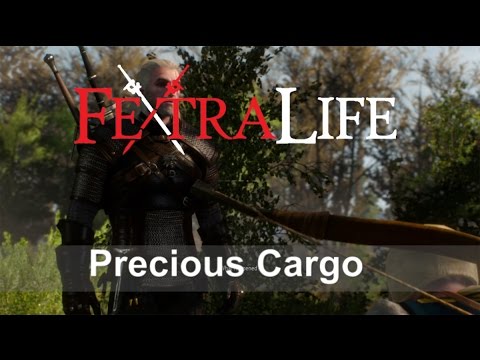 Notes & Trivia
Infinite loading bug may occur after knocking down the merchant from his horse.
Player notes, bugs, and trivia go here